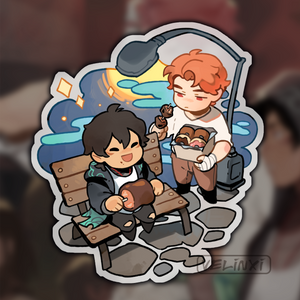 Charms: A double-sided 2" acrylic charm with a sturdy clasp. Perfect for zippers, pouches, and bags! (Or anything else you can clasp it onto. We don't judge.)

Sticker: 3"x 3" Matte coated sticker. Waterproof.
All charms come with protective seals on both sides that may seem like scratched surfaces at first! You must peel both transparent seals to get the smooth finished charm. We leave on the protective seals so that the acrylic surfaces are completely brand new when they reach you.